Mimosa Music
Gary Calamar moves his intimate Mimosa Music Series out of his Laurel Canyon living room and into North Hollywood's beautiful Federal Bar. Come on down for Mimosas, Brunch and some GREAT MUSIC. Free Shows! All Ages!
See some of our past shows below.
We are proud to present the world famous Mimosa Music Series; Next Show(s): 
Mimosa Music Series
Sunday, July 28
Freedy Johnston / Amilia K. Spicer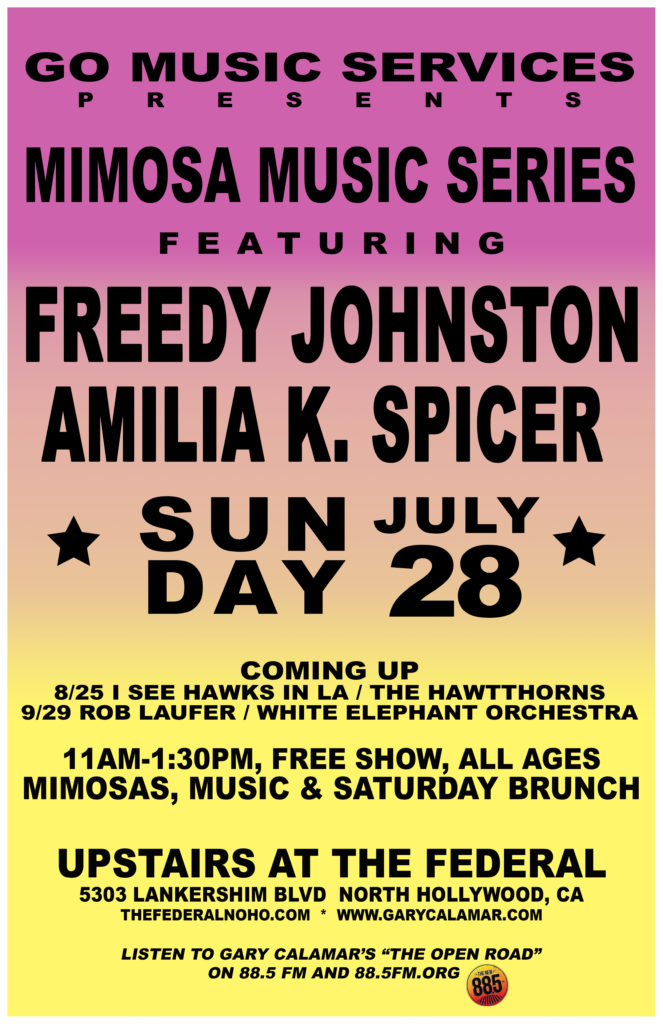 Free Show, All Ages
Mimosas, Music & Sunday Brunch
The Federal Bar
5303 Lankershim Blvd, North Hollywood, CA
COMING UP:
8/25 : I See Hawks in L.A. and The HawtThorns
9/29: Rob Laufer and White Elephant Orchestra
Follow us on Facebook
---
Past Shows
Robyn Hitchcock – May 7, 2017 "Madonna of the Wasps"

Skylar Gudasz – April 4, 2017 "I'm So Happy I Could Die"

Ian McLagan – May 4, 2015 "Glad and Sorry" Rest in Peace Mac.

Jenny O – Nov 6, 2016

First Aid Kit – April, 2012 "Dancing Barefoot"

Look Park – October 25, 2016 "Valley Winter Song"

Iron and Wine – May 6, 2013 – Full Set

The Haden Triplets – June 29, 2014 "Single Girl, Married Girl"

Paper Pilots – January, 2013 "Lacksadaisical"

Lake Michigan – May, 2013